Simple Ways to Avoid Burglaries
03/31/2014
Back To Blog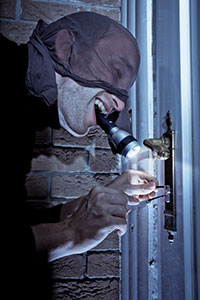 It might seem that trying to keep a sound burglar proof house is a wild goose chase! It is definitely difficult keeping up with security systems, changes on the market and continue to have the locks replaced every once in a while but the solutions always hide in simple decisions. Well, most definitely having proper and good quality, resistant locks installed at every door and window of the house is of great importance. Rekeying the locks and getting a new key when the current one is stolen is equally significant. Lock repair to ensure that all entrances secure properly is mandatory but if you ignore simple, everyday things, you will still face the possibility of at least an attempted burglary.
Basic tips to keep intruders away
Deadbolt installation is great as long as your doors are also of good quality and do not sag to the one side due to damaged hinges or wear.
Damaged window frames won't serve your interests either. Intruders may not be able to open the lock but they may pull off the worn frame.
If you buy a new plasma TV, throw the box away far away or intruders may pay you a visit to check it out.
If you go away for a few days, ask the neighbor to pick up your mail and install burglar deterrents. You want to give the impression that the house is inhabited.
Secure all window and door locks 24/7.
Closing blinds and curtains is vital in order to conceal your expensive stuff and your whereabouts in the house.
Trim the tree that might facilitate the access of intruders to upper floors.
Get motion light detectors, which will warn you if someone is in the perimeter of the house.
Avoid keeping in plain sight things that demonstrate you have lots of money. Use the garage to park the car and install security door locks in the in-between door.
Try to follow different schedules every day in order to confuse perpetrators.
If you have an alarm system, don't stick a label with the name of the company but simply alert the presence of a security system. Intruders may call pretending they are from the company and have an easy access in.